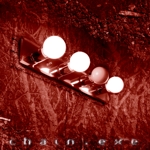 Chain.exe

A lot has happened since the first Chain album and all of it was good. Reconstruct opened the door to progrockrecords which opened the door to working with James LaBrie which lead to progrockrecords being aquired by WMD-Holdings. During all this Henning and the guys have been working on EXE and it was a fun ride. They were asked to contribute a track for a SAGA tribute album, which sadly never happened, but now it appears on this album. Weird channels took the song to the guys from SAGA and Michael Sadler expressed interest in doing some guest vocals on it. This session lead to Michael coming back to do even more vocals on the 38 minute epic "Cities" which really kicked this CD to the next level. After Henning mentioned an interest in working with Mike Keneally, the label brought the two together, so Hening wrote a song that would feature his outstanding talent. The session with Mike was amazing...you can see some videos of him playing in the video section.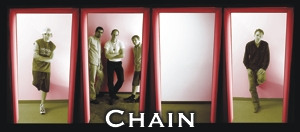 But there are even more guest artists on this album. Steve Katsikas laid down a killer saxophone solo in "Cities", Jody Ashworth, Edward Heppenstall and Maya Haddi helped build a huge a capella section together with Matt Cash and Michael Sadler...Victoria Trevithick gave her beautiful voice for "Last Chance to See" where she sings together with Matt and Mike Keneally. Many reviews for the first Chain album classified the band as somewhere between progressive rock and progressive metal, but this should not happen with EXE which is definitely far in the prog-metal territory. This CD features a full 80 minutes of very heavy music with some subtle moments thrown in to relax your ears...only so they can be filled with more metal majesty...enjoy!
Thanks to all guest artists involved.
Special thanks to Greck for saving the the hard drive that stored all the sessions for this CD, without him we would have had to start over.

Track Listing:
1 - 7. Cities
8. She looks like you
9. Eama Hut
10. Never leave the past behind
11. Hot to Cold
12. Last chance to See





Guest Artists:
Michael Sadler - additional vocals on "Cities and "Hot to Cold"
Mike Keneally - additional vocals and guitar solo on "Last Chance to See"
Steve Katsikas - Saxophone Solo on "Cities"
Maya Haddi - Additional Vocals on "Cities" and "Hot to Cold"
Victoria Trevithick - Additional Vocals on "Last Chance to See"
Edward Heppenstall - Counterpoint Vocals on "Cities"
Jody Ashworth - Counterpoint Vocals on "Cities"
Sean Andrews - Stunt Bass on "Eama Hut"
Greck and Jesse - Programmers Choir on "Eama Hut"