Henning grew up in Hirschhausen / Germany. A tiny little village in suburbian Germany. His parents wanted him to play piano at age 6. Music was big in his family...in a way. His father played piano and church organ when he was younger and his grand father played violin, saxophone and the clarinet. He didn't play them well, but he played them with passion and the realization that making music should always be about having fun Henning owes to his grandfather. Henning took piano lessons and was quite good at it, but he didn't have any fun. He didn't understand that music was supposed to be an expression of emotions translated into notes. There were notes on the paper, they translated onto keys and he pressed them. He did that well, but it was nothing more than that, it was a chore, it was work to be done after he came home from school. At this age, music wasn't something for him to be appreciated, it just didn't do anything for him. Maybe the reason was that he was only exposed to two kinds of music: the music his father listened to and the music his brothers listened to. His father listened to Mozart, Beethoven and Bach and that was it. Back then, this didn't do anything for a 6 year old boy. Through the wall of his brother's room he heard Genesis, Marillion, Saga, Magnum and Rush among others, but he still wasn't consciously aware of it. Only years later he realized the enormous influence that this music would have on him.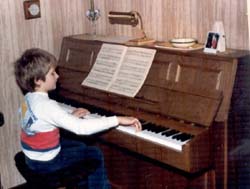 He hated his piano lessons and kicked his teacher on the leg to get out of it. After enough kicking and screaming his parents gave up and he was free. Today, of course, he regrets giving up on it, but he also understand that playing music without feeling it is just an exercise and nothing more.
Years passed and on his 15th birthday his brother Stephan gave him a CD. It was Bon Jovi's first album and suddenly Henning's eyes were opened. He wanted to explore this world of loud fast and emotional music and turned to MTV where just at that time they were celebrating this years "Monsters of Rock Weekend" which featured the following bands: Bon Jovi, Whitesnake, Aerosmith, Poison, Quireboys and a couple of others. He taped as much as he could, wrote down the names of the albums and went out to get them. This collection would form the basis of what he considers his conscious influences. His friends Jan and Ulf Ricklefs played in a band and suggested he should start playing guitar. On January 6th 1990 he got his first guitar, a cheap Nylon string acoustic, and he began to make progress quickly. Just a few month after that he bought a cheap electric guitar and only a few month after that he traded it in for an Ibanez Jem Steve Vai Model. He started to take guitar lessons from guitar teacher Kuno Wagner who was not a fan of the music Henning wanted to play. This little fact turned out to his advantage since Kuno always tried to push him in new directions and trained Henning to experiment. Kuno is a world renown Warr Guitar player and Henning his touch-style tapping technique opened the world of odd time signatures for him.
Through the last years of high-school Henning knew he wanted to be a professional musician, but seriously, who doesn't. He skipped a lot fo classes and only focused on what he considered important to his goals...english (because he would probably have to go to the US to study) and biology (because it seemed to be interesting). After high-school (1995) instead of joining the army for a year (because in Germany it's mandatory), he chose to work for a hospital and gained experience in the real world. The 14 month he spent with handicapped patients would change him in a very positive way and it was here where the idea for "Babysteps" was born.
After that his father understood that he was serious about being a musician and suggested that if was going to go through with it, he would have to present him with the best school possible so that the chances of Henning making a living with music would be increased. Henning knew the best school out there was Berklee College of Music, but he never thought that going there was even a possibility.
It turned out that he was wrong and that his experience in numerous bands such as Chain and Storyteller as well as Country and Jazz Ensembles was qualification enough to get accepted.
In May 1997 he moved to Boston where he studied for 3 years and graduated from his dual major in "Contemporary Writing and Production" and "Music Synthesis" with a summa-cum-laude in may 2000.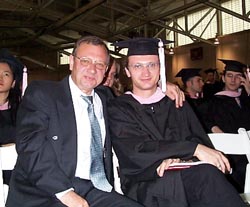 His teachers suggested that he should move to Los Angeles to try his luck. He took their advice, packed all his belongings in a truck and moved to LA. After working for guitar center in Hollywood for a few months he decided that he was in the wrong place and quit. Just two weeks later he was hired by a small ad agency to run their newly built studio. Here he produced songwriters and bands and basically did what he loved to do, but with very little financial success. He built "jinglegroup" together with the agency to sell high quality jingles over the internet which led to some bigger jobs, but not enough to keep the company going. In his spare time he re-discovered his passion for progressive rock in the form of old tapes from his former band Chain and started re-producing this music. What was supposed to be a hobby on the weekends and a little CD Christmas gift for the former band members turned out to be a full length CD that people seemed to be interested in. After sending out just one copy to an internet radio station, the label that was attached to the station offered to sign the album and a couple of copies started to be sold. Some reviews came in and they were decent. Henning considered this to be a major success and more than he ever asked for. Suddenly the label started talking about a possible project with James LaBrie and the possibility alone blew his mind. Well, we now know that it was more than just a possibility and that finding his way back to his roots was the right way to go. These roots don't just go back to his days with Chain, but way further, back to the days when the music was booming through the walls of his brother's room and the melodies and rhythms of the classic progressive rock bands started to condition his mind to think progressively.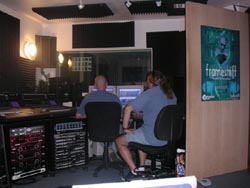 Today Henning is working on many different projects and continues to expand his repertoire by further exploring various styles as proven by his solo piano work, solo guitar material, ambient techno, rock, pop, blues, funk and of course progressive rock.